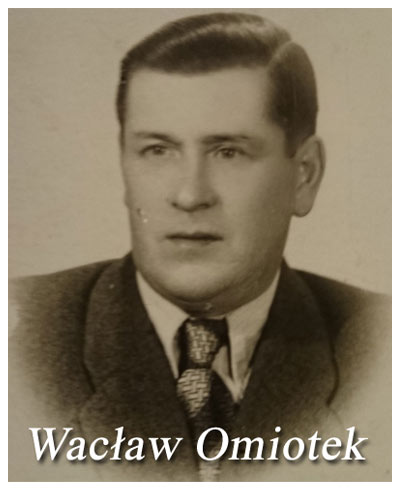 Historia Zakładów Ortopedycznych im. Wacława Omiotka jest dość zawiła i skomplikowana. Wszystko zaczyna się w roku 1935 kiedy to na Warszawskiej Pradze, szewc Wacław Omiotek otwiera mały zakład obuwniczy. Ciekawe innowacyjne pomysły jak i niewątpliwy fach w ręku doprowadziły do szybkiego rozwoju firmy. Wprowadzenie do oferty butów ortopedycznych oraz sportowych, wykonanych z nowoczesnych jak na tamte czasy materiałów sprowadzanych z zachodu Europy było strzałem w dziesiątkę
Niestety wojna jak i późniejsze czasy komunizmu nie sprzyjały rozwojowy prywatnych inicjatyw i działalności gospodarczych. Było bardzo ciężko. W tamtych czasach schedę po ojcu przejął dzisiejszy prezes Pan Jerzy Wacław Omiotek. Jest prawdopodobnie najbardziej doświadczonym technikiem ortopedycznym w Polsce. Jego ponad 50 letni starz pracy to to istna kopalnia wiedzy. Jest starszym cechu rzemiosł skórzanych im. Jana Kilińskiego, wielokrotnie odznaczanym najwyższymi honorami państwowymi za działalność na rzecz osób z niepełnosprawnością. To właśnie Pan Jerzy w latach powojennych kontynuował tradycje rodzinne. Rozwinął firmę wprowadzając do oferty pełną gamę produktów ortopedycznych.
W roku 2005 przeniósł siedzibę firmy z ul. Kawęczyńskiej na Starej Pradze do Anina. Dzisiaj zakład to nowoczesna placówka służby zdrowia. Pracownicy zdobywają doświadczenie na zachodzie, współpracujemy ze szpitalami na terenie całego województwa, cały czas rozwijamy się tak, aby sprawnie radzić sobie z najbardziej zaawansowanymi problemami. Jesteśmy na bieżąco z nowinkami technicznymi z całego świata a nasze produkty cieszą się dobrą opinią wśród nawet najbardziej wymagających klientów.
Wspaniałe jest również to że, Pan Jerzy Omiotek ma następcę, czyli swojego wnuka, którego od wielu lat przysposabia i naucza trudnego fachu zaopatrzenia ortopedycznego.