SOSORT
SOSORT (Society on Scoliosis Orthopaedic and Rehabilitation Treatment) to Międzynarodowe Towarzystwo Ortopedycznego i Rehabilitacyjnego Leczenia Skolioz.
W odróżnieniu od dużo starszego towarzystwa SRS (Scoliosis Reaserch Society) skupiającego się na operacyjnym leczeniu skoliozy i zrzeszającym głównie lekarzy, SOSORT skupia się na nieinwazyjnym leczeniu skoliozy. Jego członkowie to specjaliści wielu dziedzin: lekarze, fizjoterapeuci, ortotycy, psycholodzy i inżynierowie. Dzięki takiemu doborowi fachowców można prowadzić badania naukowe wychodzące poza ramy jednego zawodu medycznego. Takie interdyscyplinarne podejście, opierające się na współpracy wielu grup zawodowych skupiające się na konwencjonalnym leczeniu skoliozy daje obiecujące efekty.
SOSORT co roku organizuje międzynarodową konferencję naukową. W kwietniu 2019 taka konferencja odbyła się w San Francisco w Kalifornii. Podczas tego wydarzenia w poczet członków przyjęty został nasz ortotyk Krzysztof Nowak.
Członkostwo w towarzystwie daje dostęp do najnowszej wiedzy i badań naukowych w dziedzinie nieoperacyjnego leczenia skolioz. W tym do wszelkich badań dotyczących gorsetowania pacjentów, wyników takiego działania, technicznych i biomechanicznych założeń dotycząc gorsetów. Dzięki członkostwie w SOSORT pacjenci przyjmowani w Zakładach Ortopedycznych im. Wacława Omiotka mają dostęp do gorsetów typu Rigo Cheneau na najwyższym światowym poziomie.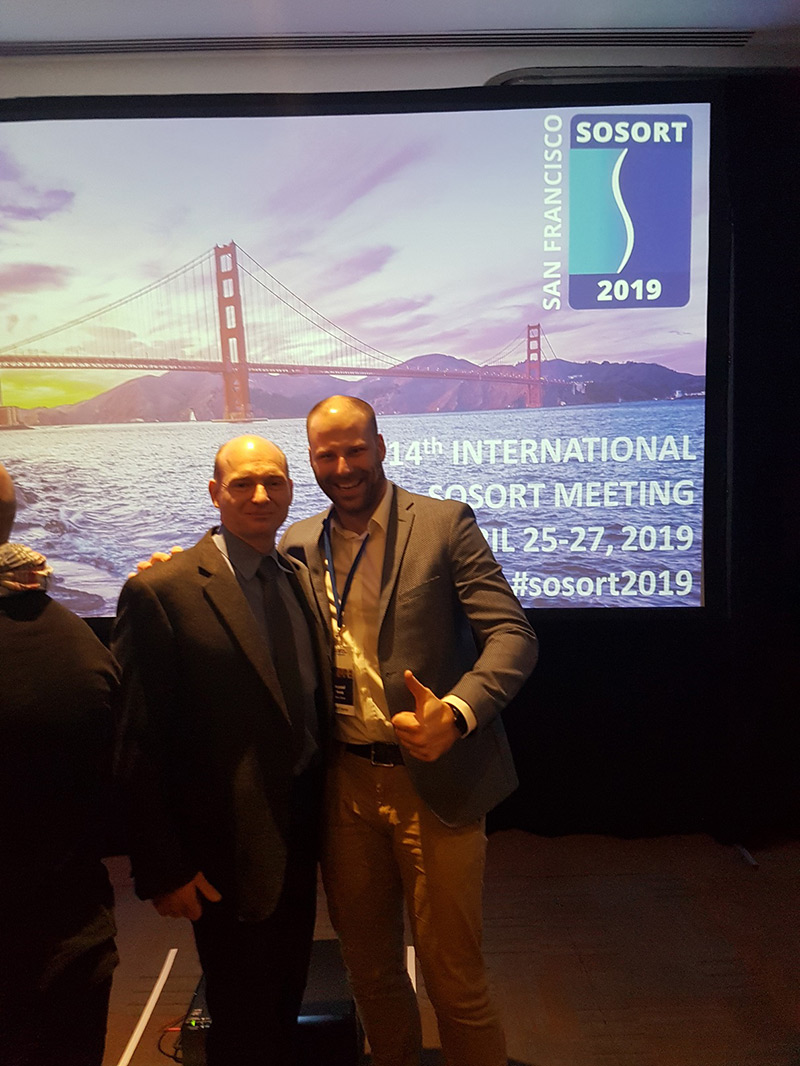 Krzysztof Nowak z Manuelem Rigo i z Grantem Woodem podczas konferencji SOSORT 2019 w San Francisco.